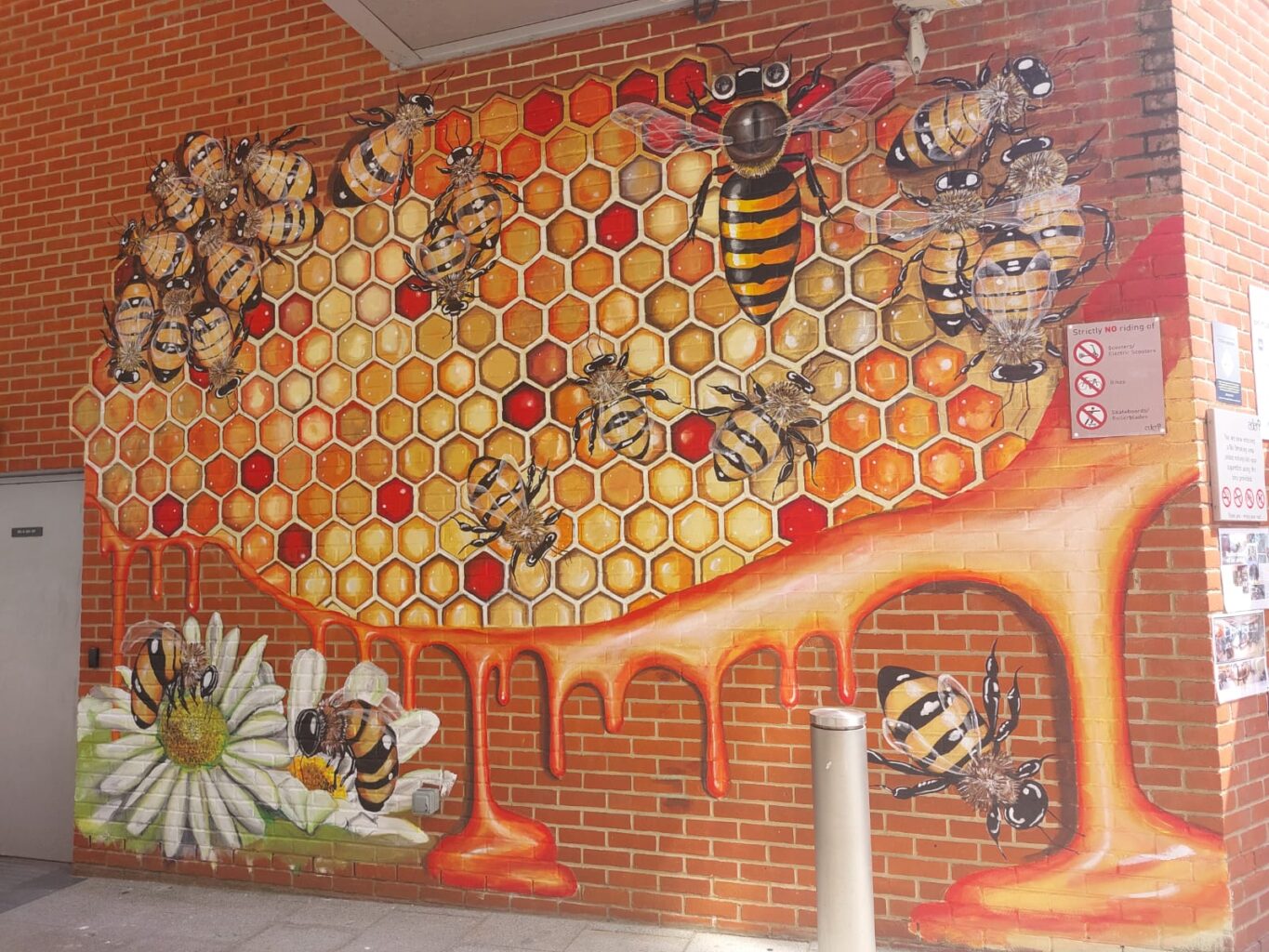 Back in May we celebrated our rooftop beehives with a whole week of un-bee-lievable bee and honey themed fun, including craft workshops and a trail around the centre.
Working with local artists and prop sculpturers, we installed 8 larger than life landmarks for shoppers to find during May half term. One trail point that really created a buzz around the centre was our giant bee and honeycomb mural that was painted by Robin Eckardt.
Robin is a contemporary artist based in High Wycombe and her studio is just around the corner from Eden. Being so passionate about supporting the local community, we decided to commission Robin to create this piece of artwork for us as we knew that not only would she create something brilliant for Eden, but it would give her the opportunity to promote herself and her work.
Since speaking to Robin after the completion of the mural, she said: "I was absolutely delighted to be commissioned by Eden Shopping Centre to paint their bee and honeycomb themed mural earlier this year.
"When taking on the project, I can't say I wasn't daunted at first. The scale was like nothing I have ever attempted before. But working alongside the team at Eden, we managed to accomplish what looked to be impossible.
"This was the first time I had ever painted directly onto red brick. After building up layers of paint to achieve the colour and richness, and using extremely small brushes to get smooth lines, the majority of the design was done. Taking note of the two round security cameras, I had the idea to incorporate them into the mural as eyes for the Queen bee!
"Painting this mural in such a prominent location in the town centre was a wonderful chance for me to promote myself and share what I do. Passersby often gave such great encouragement. I had young children stop to watch me paint and others telling me that they would purposefully walk by each day to see the progression. What I wasn't expecting was the number of people who thanked me for helping to brighten up the space. I hope this mural will continue to bring joy and happiness!
"I would like to take this opportunity to thank those who stopped and said hi. If you are interested in visiting me at my studio, turn left at Card Factory and follow the road for about 100m where you'll find me located next door to Travelodge. Visiting my venue is a unique and authentic experience as it's both a gallery and my actual working studio.
"You can find my entire portfolio on my website www.robin-eckardt.co.uk, or you can contact me on info@robin-eckardt.co.uk / 07759 480 568.  Please also follow me on Instagram @robineckardtart."
Robin's mural will remain in situ at Eden as a continued reminder of the importance of bees and our contribution to their conservation.
From Saturday 9th September, jars of honey harvested from our bees will be available to purchase from Customer Services. Each jar is £4.50 and all money raised will be donated to the High Wycombe & District Beekeeper's Association.
To find out more about our rooftop beehives and the crucial role they play in our day-to-day lives, click here.