The Easter Egg Project landed at Eden!
In addition to our two weeks of egg-cellent spring crafts during the Easter holidays, we teamed up with Wycombe Arts Centre to host a selection of our very own arty Easter Eggs here at Eden.
Each of the eggs was designed and painted by local artists and focus on dining, shopping and fun.
The Dining Egg
The first egg was produced by Hannah Lyn and features mouth-watering food and drink to represent the variety of world cuisines found at our restaurants such as Nando's, Pizza Express, Wagamama, YO! Sushi and Zizzi.
The Shopping Egg
The next egg, which focuses on shopping, was designed by Tessa Taylor and painted by Dan Wilson.
Tessa's design includes iconic fashion, beauty and accessories such as trainers, sunglasses, perfume, make up, jewellery and a shopping bag, to celebrate our extensive retail offer here at Eden.
Designed as if the products were floating, Dan then painted a space theme to connote the topic of disposable consumer culture.
The Fun Egg
The third and final egg is a true collaboration! Contributors include Jack Smith, Dan Wilson, Hugo Pospisilova, Dacarter, Kalkalta, Mia Salter and more.
This fantastically fun egg cracks open conventions and hard boils preconceptions! The pristine egg is a sacred image of fertility, but is spilling out with colourful pop culture references in a very 2023 way!
Dotted around the giant egg is another artistic display to represent all of the fun things that Eden has to offer. From the cinema and bowling to gadgets, technology and kids craft events, it shows just how much there is to do at Eden!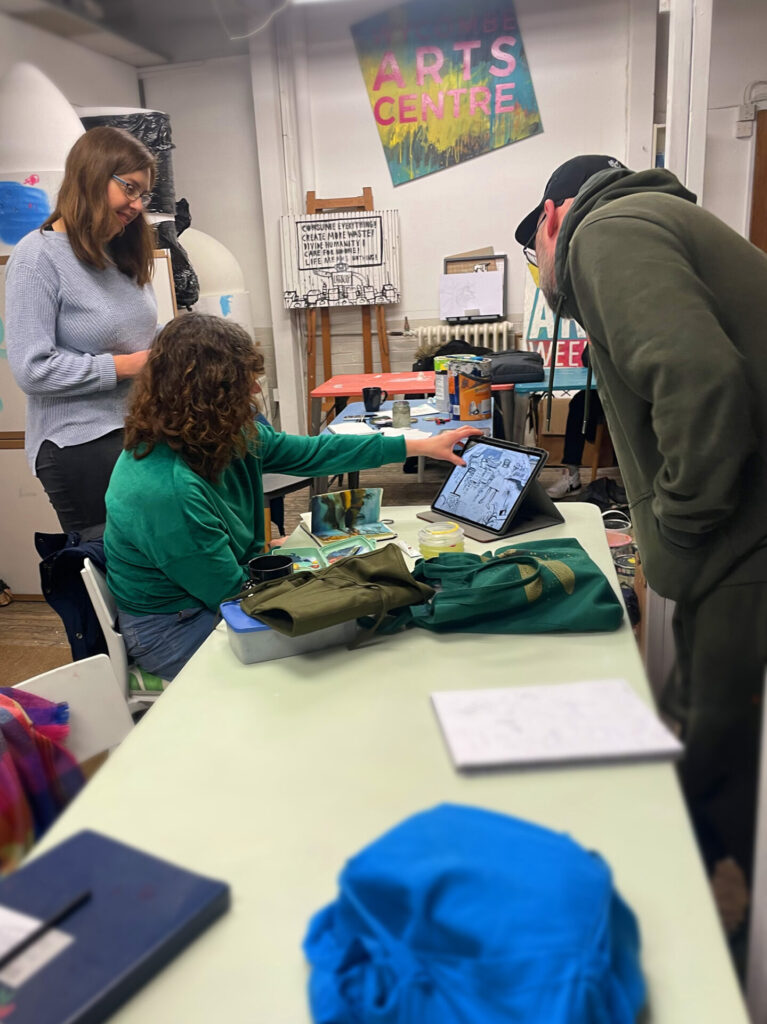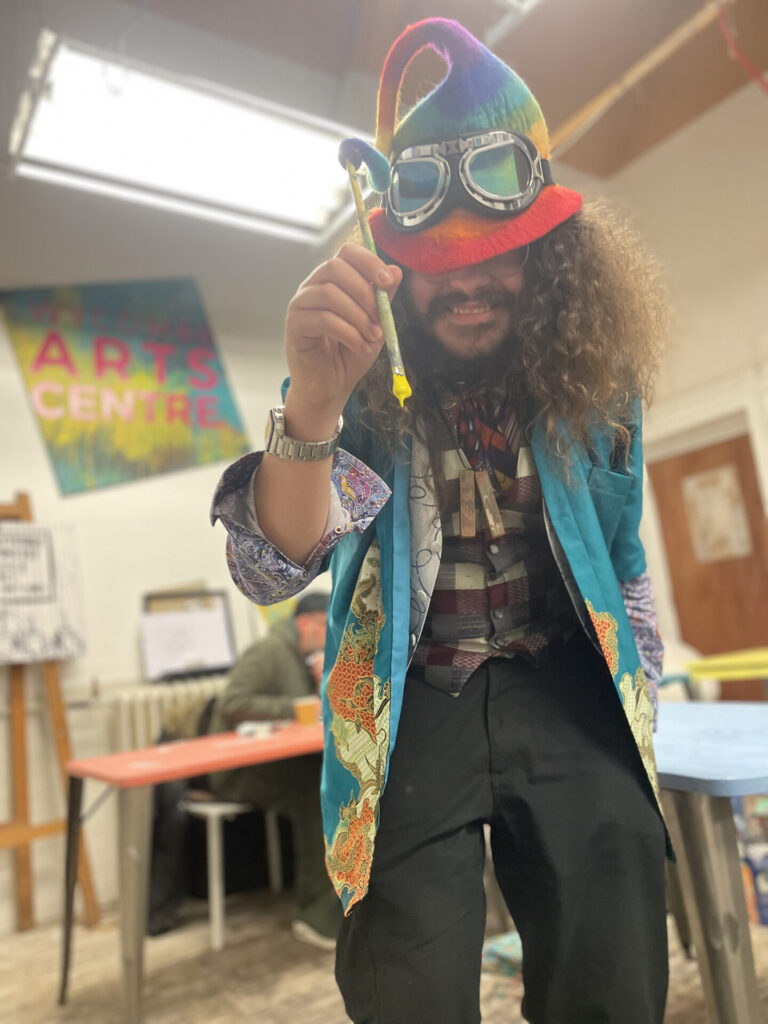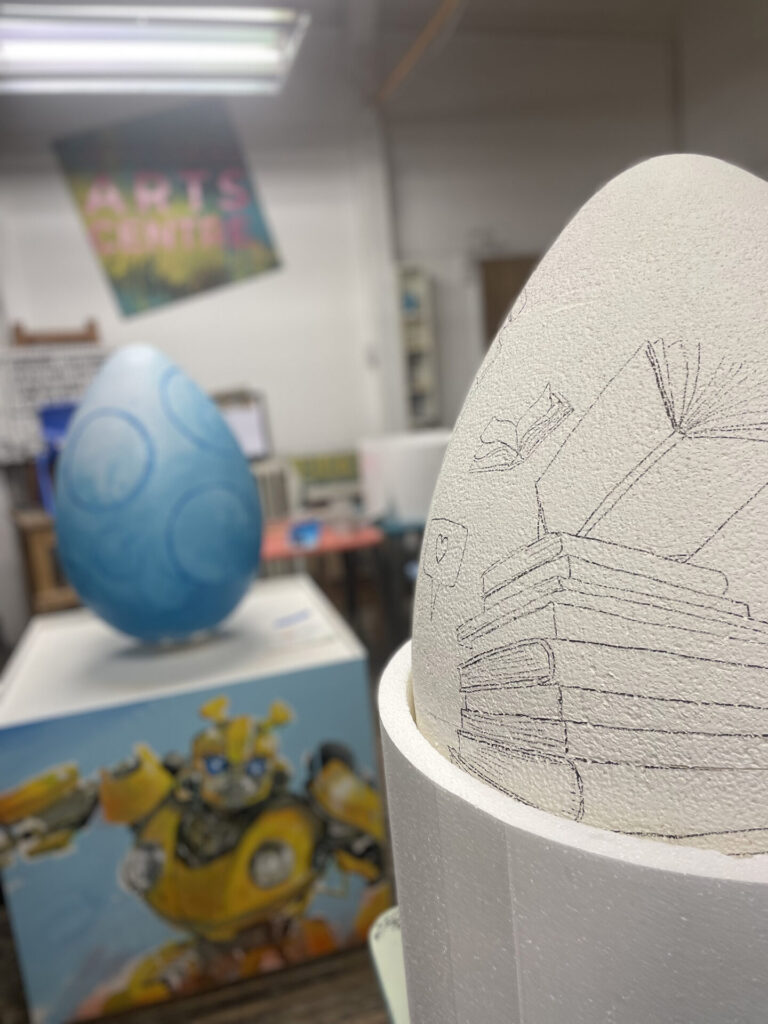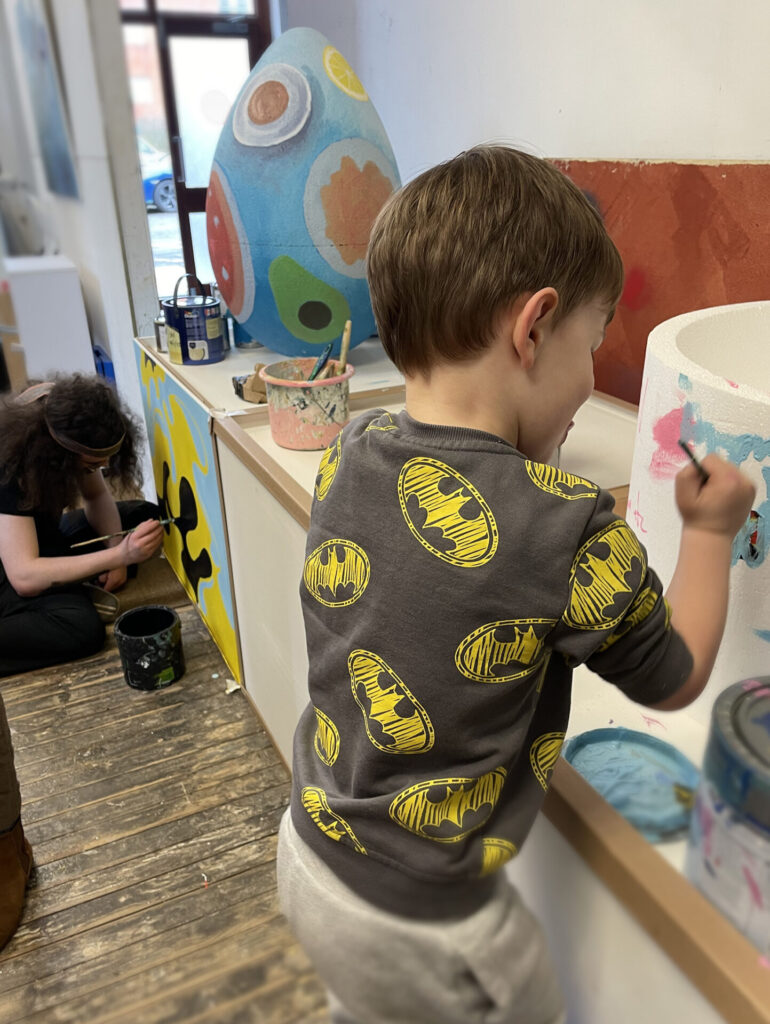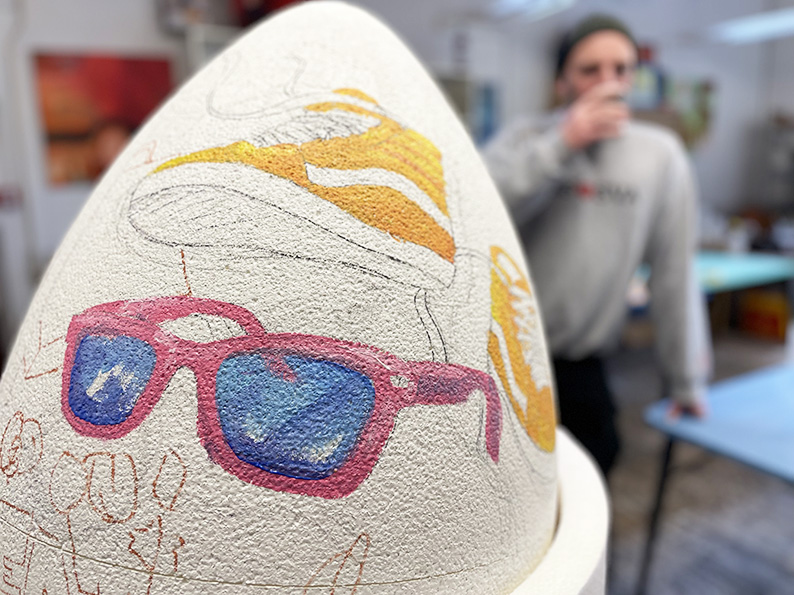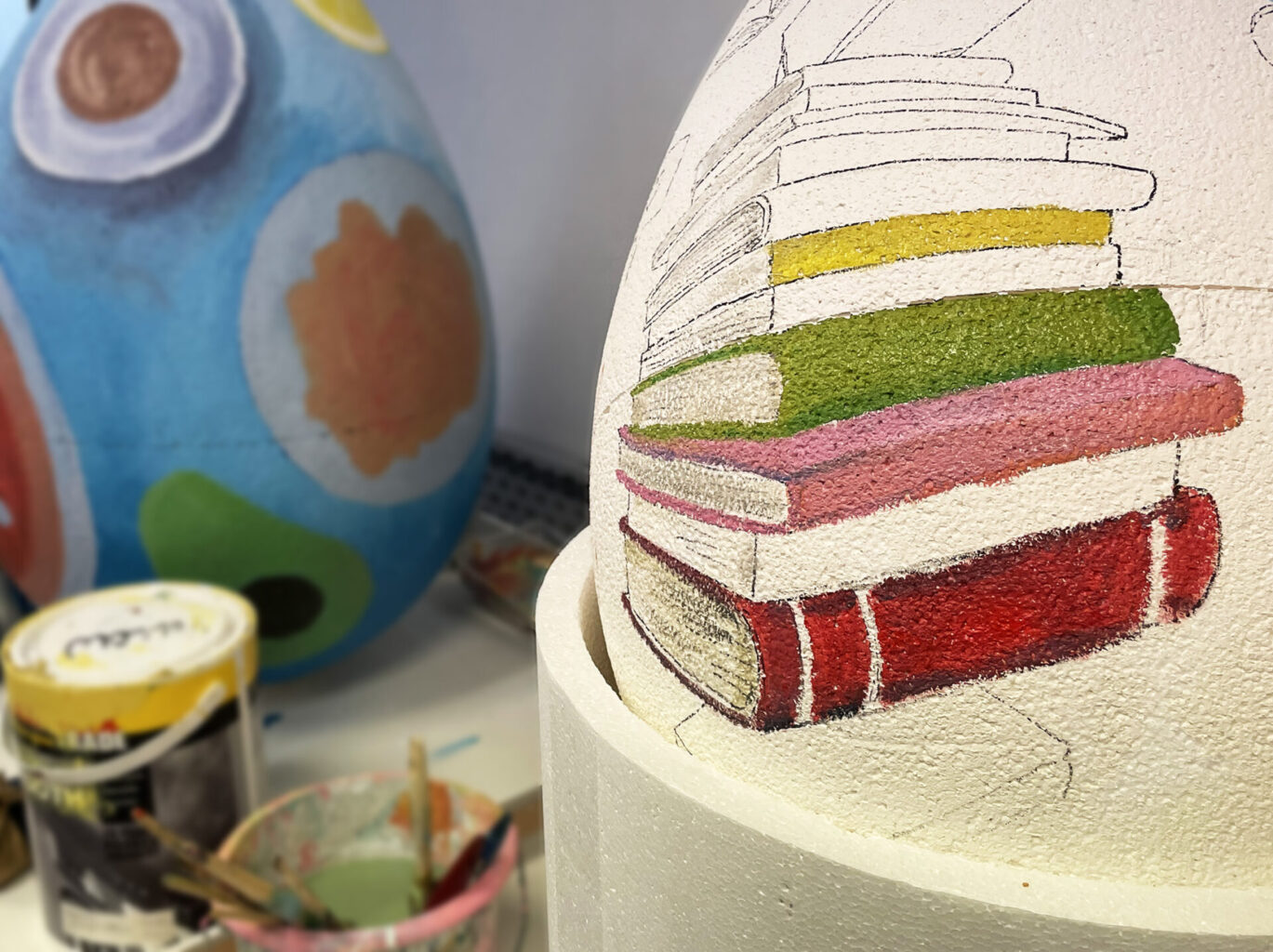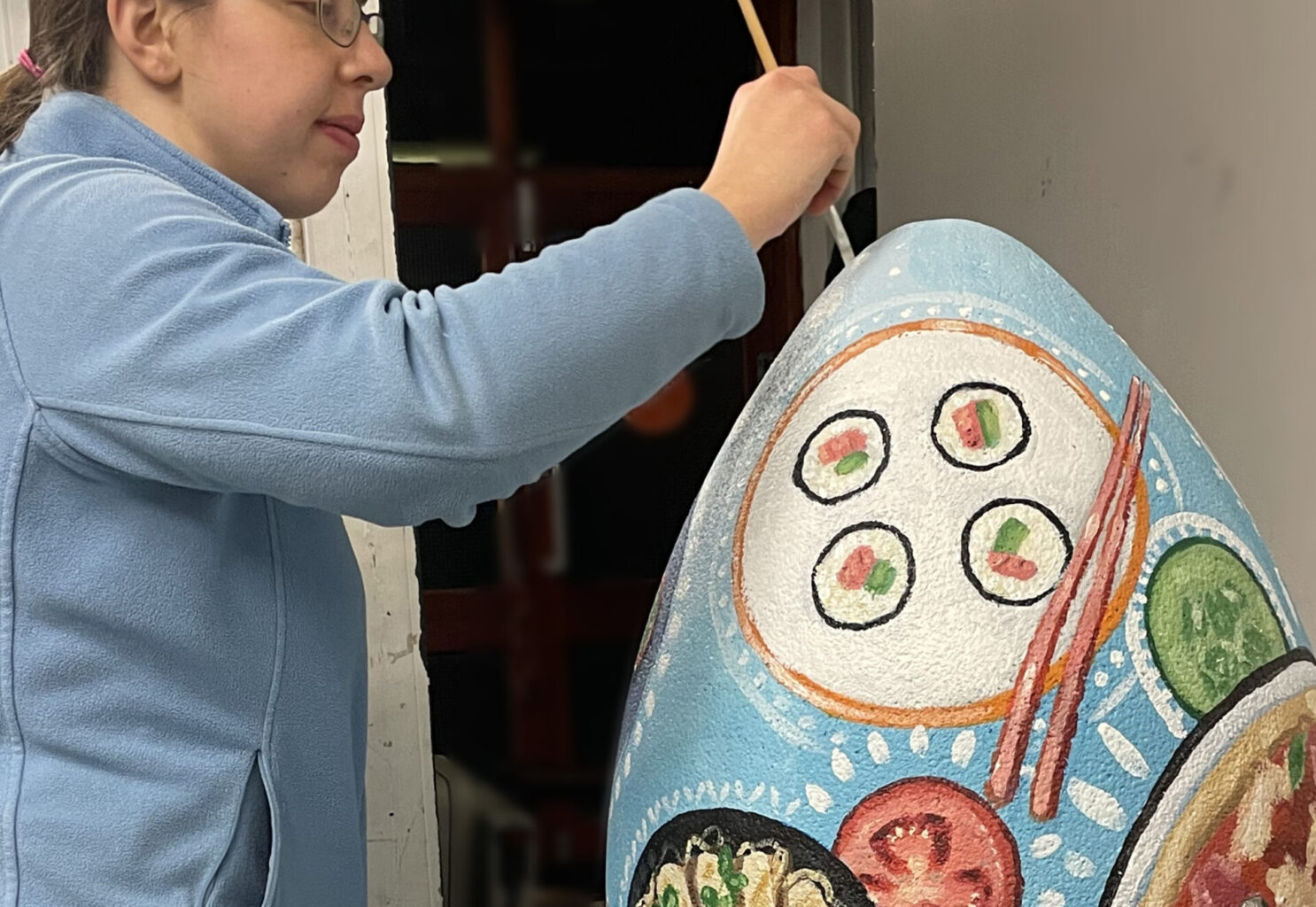 Photos (by Dan Wilson)
Planning in progress with Tessa, Hannah and Darrell at Monday night's Art Club 'open studio' session.
Student Jack getting inspired with psychedelic paint.
Bumblebee the Transformer is representing film, with another new movie coming soon.
Centre Manager Fran's 3 year old son Hugo joins in with the painting fun!
Work in progress in the art studio at Wycombe Arts Centre.
as above
Hannah putting the final details onto her 'Dining at Eden' egg!
Wycombe Arts Centre is an amazing Grade 2 listed former Church just a 2 minute walk from Eden and the Bus Station on colourful Desborough Road. There is always lots going on, from ceramics workshops and youth events, to gigs, open mic nights, theatre performances, and more.
Monday evenings are dedicated to visual arts, with an Art Club 'Open Studio', Life Drawing and Camera Club.
Find out more about Creative Monday's and everything else at wycombeartscentre.com.