Food Fair Throwback – Mary Berry Recipes
While Eden is unable to host its annual Foodie Fair this year and The Big Buck Bake Off is an online affair, we've still got a bunch of tasty treats to look back on.
So, in this issue, we're digging into the archives and delivering some of the most amazing recipes donated to us from some of the best celebrity chefs ever to grace the stage at Eden's Food Fair.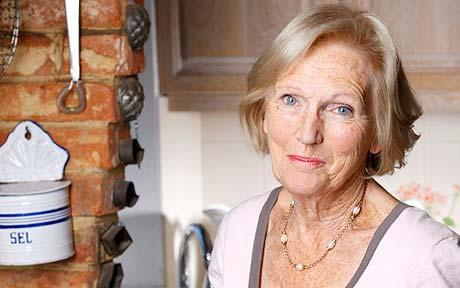 Mary Berry's Five Spice Mango Chicken – Serves 4
Light & fresh, this fruity chicken dish is perfect for dinner any night of the week! The secret ingredient to really make this recipe special is Peppadew peppers – The sweet Piquanté Peppers  are just as sharp in taste as the hot variety but are milder in flavour, meaning you can enjoy the same great taste without that fiery sensation (unless of course you like it hot!).
Ingredients
1 large mango, roughly chopped
6 mild Peppadew peppers from a jar
3 tablespoons mango chutney
100g (4oz) full fat Greek yoghurt
2 teaspoons Chinese five spice powder
2 teaspoons flour
Juice of ½ a lemon
Salt and pepper
4 chicken breasts, skinless and boneless
About 1 tablespoon sunflower oil
1 tablespoon honey
To Decorate
2 mild peppadew peppers, sliced thinly
Fresh parsley, chopped
Method
1. Cut the mango in half lengthways, either side of the stone. Peel the fruit and cut into manageable sized pieces.
2. Measure half the mango pieces into a processor, choosing the less even pieces. Add peppers, mango chutney, yoghurt, five spice powder, flour and lemon juice and whiz until fairly smooth. Season with salt and pepper.
3. Cut the chicken breasts into pencil thin strips and season with salt and pepper. Heat a large non stick frying pan over a high heat. Add oil and chicken, spread evenly around the pan and pour over the honey. Fry briskly over a high heat for about 2-3 minutes until browned, and just cooked (if you have a small frying pan you will need to do this in two batches).
4. Pour the mango sauce over the chicken in the pan and stir until sauce has thickened and bubbling. Stir in the reserved fresh mango. Check seasoning, turn into serving dish and top with sliced red peppers.
5. Serve with boiled rice and rice.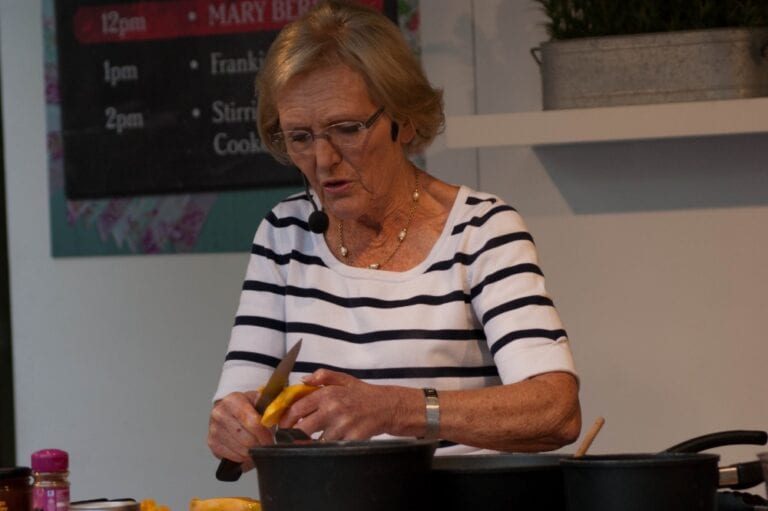 Mary Berry's Rocky Ginger Road – Serves 10
This is a grown up version of the classic Rocky Road for big kids with a sweet tooth. However if the kids want a taste of the classic, simply omit the stem ginger and replace with the same amount of mini marshmallows.
Ingredients
200mls double cream
300g Bournville chocolate
50g butter
25g caster sugar
200g ginger biscuits, broken into small pieces
75g stem ginger, chopped into small pieces
100g sultanas
Method
1. Line a 18cm (7") square tin with a strip of parchment paper across the base.
2. Measure the cream, chocolate and butter into a bowl. Melt over a pan of just simmering water until runny and melted (be careful not to overheat).
3. Add the caster sugar, biscuits, ginger and sultanas. Stir together and pour into the tin. Level the surface then chill in the fridge for 4 hours until firm.
4. Turn onto a board, remove paper and cut into squares.
5. It is deliciously rich so the size of square is up to you!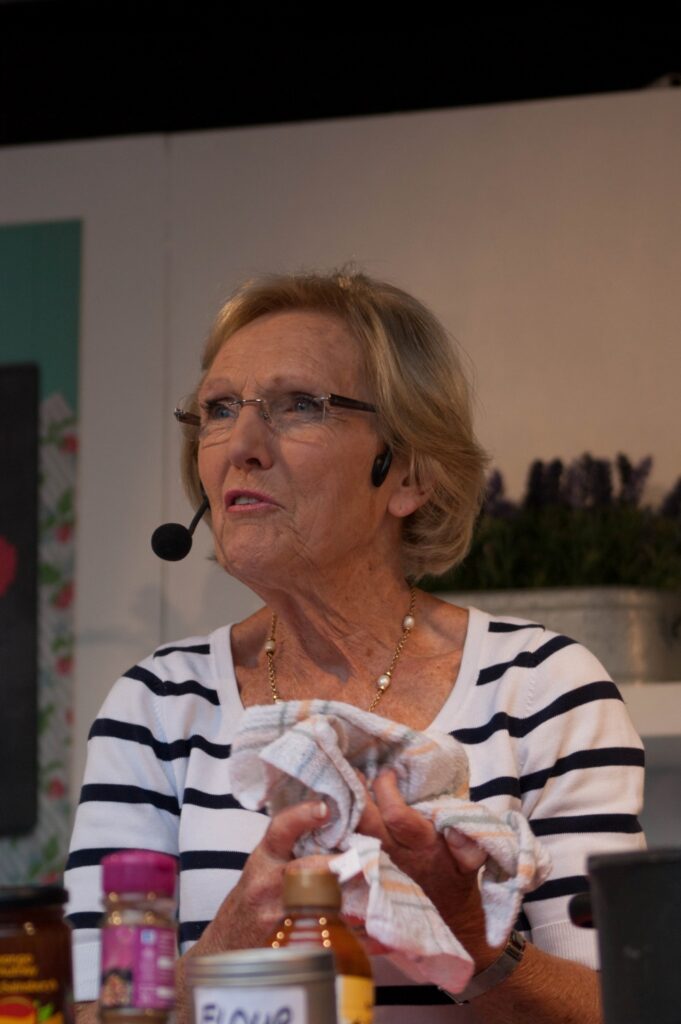 Mary Berry's Heavenly Lemon Cheesecake on a Ginger Crust – Serves 8-10 or 12 individual bakes
To all the bakers that love baking but don't have as much time as you would like, we have good news! This moreish cheesecake only takes 10 minutes to make once you have collected the ingredients.
Ingredients
100g (4oz) ginger biscuits
50g (2oz) butter, melted
2 x 250g (9oz) full fat mascarpone cheese
1 x 325g jar luxury lemon curd
Juice of 1 small lemon
Raspberries
This quantity of ingredients is perfect for making one large dessert or 12 x individual 7cm cooking rings for a delicious mid-week treat.
Method
You will need a 20cm (8") loose bottom cake tin. Greased and base lined with parchment paper.
1 Put the biscuits into a poly bag and crush using a rolling pin. Mix with the butter and press into the base of the tin (not up the sides).
2 Measure the mascarpone, lemon curd and lemon juice together in a bowl and beat until smooth.
3 Spoon into the tin on top of the biscuit base and level the top. Chill in the fridge for a minimum of 4 hours to firm up.
4 Decorate with clusters of raspberries and dust with icing sugar before serving.
TOP TIP: PREPARE AHEAD – The cheesecake can be made completely up to the end of step 3 up to a day ahead. Not suitable for freezing.