Food Fair Throwback – Nadiya Hussain Recipes
By Amber Parris
While Eden is unable to host its annual Foodie Fair this year and The Big Buck Bake Off is an online affair, we've still got a bunch of tasty treats to look back on.
So, in this issue, we're digging into the archives and delivering some of the most amazing recipes donated to us from some of the best celebrity chefs ever to grace the stage at Eden's Food Fair.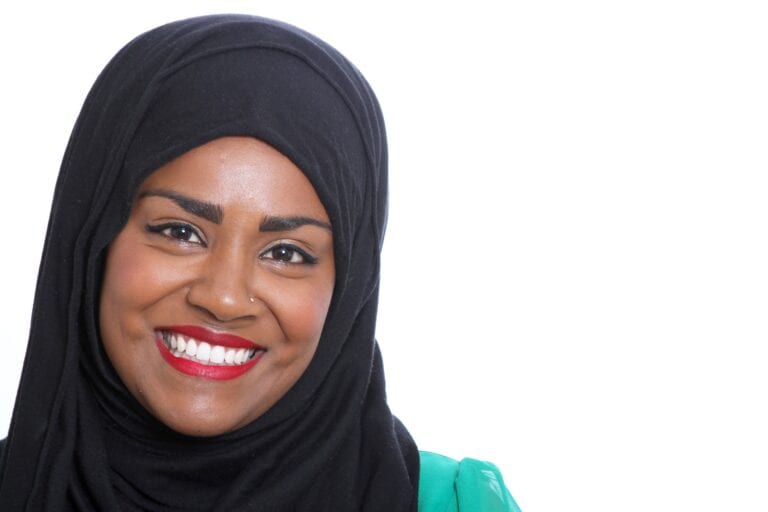 Nadiya Hussain joined us on stage at our 2016 Food Fair and wowed us with a trio of terrific dishes. The beauty of her dishes (besides from their delicious flavours!) is that anyone can accomplish them no matter whether you're a novice or keen cook.
Nadiya's Bengali Korma
From 'Nadiya's Kitchen: Over 100 Simple, Delicious, Family Recipes'
Ingredients
7 tablespoons butter or ghee
3 tablespoons vegetable oil
1 large cinnamon stick
3 bay leaves
5 whole cardamom pods
1 whole star anise
10 cloves of garlic, peeled and crushed
7.5cm piece of ginger, peeled and crushed
2 teaspoons fine sea salt
2 large onions, finely chopped
400ml water
6 chicken thighs (skin off)
6 green chilies, split lengthways and remove seeds (leave seeds in if you want it to be spicier)
6 hard-boiled eggs, peeled
Method
• Put a large pan over a medium heat, and add the butter and oil. Once the oil is hot, put in the cinnamon stick, bay leaves, cardamom pods and star anise. Heat until the spices darken slightly.
• Blitz the garlic and ginger in a food processor, and add a little water so that they form a paste, then add this to the pan with the salt. Cook gently over a low heat for 10 minutes.
• Now add the onions and cook gently for another 20 minutes. Add the 200ml water and continue to cook gently until the onions melt down completely. To help the process along you can use a potato masher.
• Now add the chicken to the pan, and leave it to cook over a medium heat covered, which should take around 15 minutes. Once the chicken is cooked, add the eggs and cook for 10 minutes more. Finally, add the split green chillies.
• This is best served with hot basmati rice.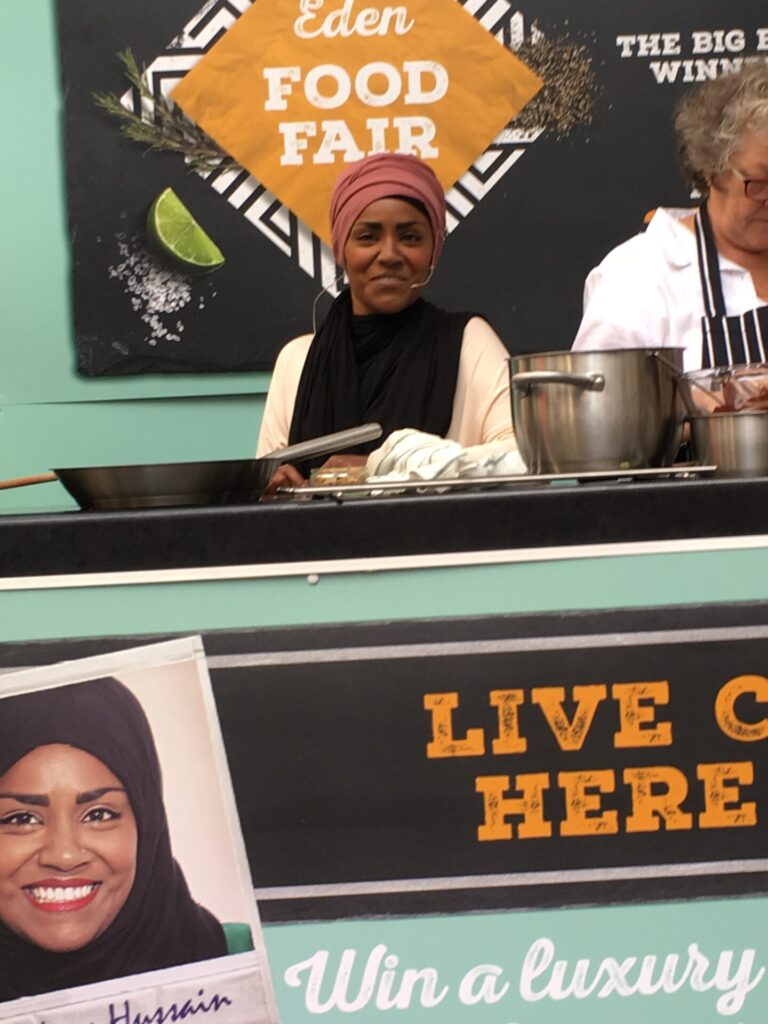 Nadiya's Za'atar and Lemon Palmier
From 'Nadiya's Kitchen: Over 100 Simple, Delicious, Family Recipes'
Prep: 15 minutes, plus 30 minutes chilling
Cook: 15 minutes
Makes: 18–20 (each palmier is about 7cm long by 5cm wide after baking)
Can be frozen before baking (if you did not use frozen pastry)
Ingredients
500g puff pastry (shop-bought, or you can make your own)
Plain flour, for dusting
50g za'atar
Zest of 2 lemons
1 medium egg, beaten
50g sesame seeds
Method
• Roll out the puff pastry on a floured surface, to a 30 x 35cm rectangle the thickness of a pound coin.
• Put the pastry on a baking sheet – this will make it easier to move when it has been rolled up.
• Spread the whole rectangle of pastry with the za'atar, making sure to firmly press the spice into the dough.
• Now sprinkle the lemon zest all over the pastry, distributing it as evenly as you can.
• With a short end towards you, roll the two long edges of the pastry inwards. Where the two rolls meet in the middle, brush the join lightly with the egg.
• Put the whole thing in the fridge to chill for 30 minutes.
• Preheat the oven to 200°C/Fan 180°C. Line two baking sheets with greaseproof paper.
• After 30 minutes remove the roll from the fridge and, using a sharp knife, cut it into slices about 1cm thick.
• Lay the palmier flat on the baking sheets, brush them with egg and sprinkle over the sesame seeds. Bake for 15 minutes, until light, golden and slightly puffy.
• Leave the palmier to cool on the baking sheets for 15 minutes before moving them to a cooling rack to cool completely.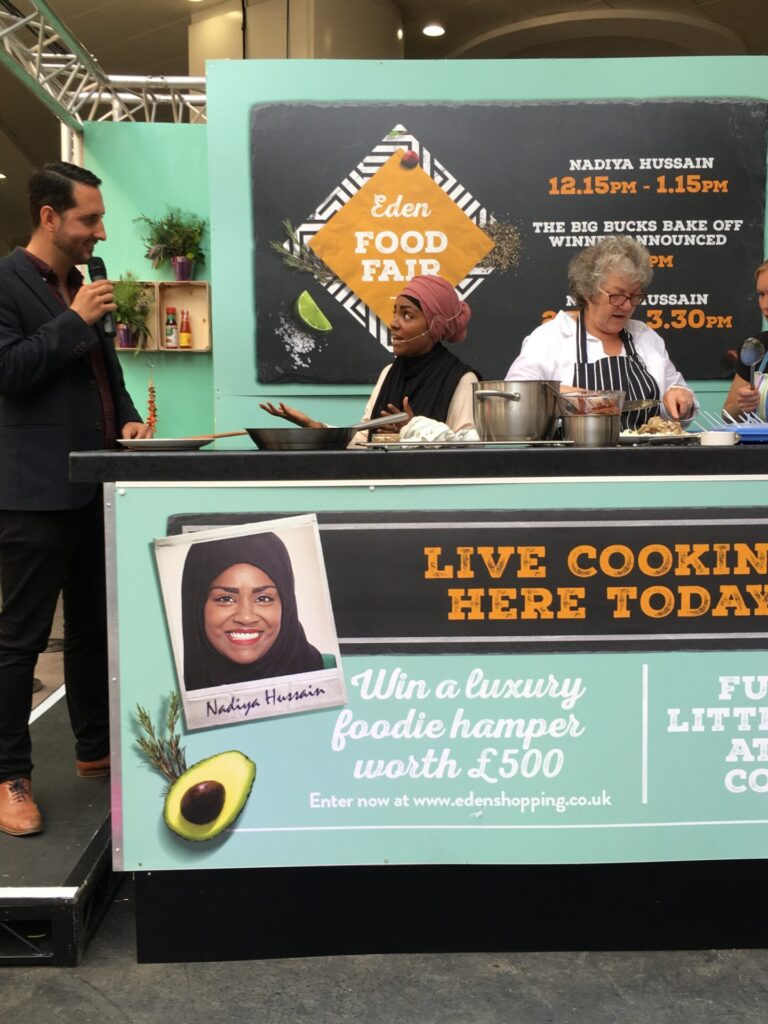 Nadiya's Cherry Bakewell Macaroons
From 'Nadiya's Kitchen: Over 100 Simple, Delicious, Family Recipes'
Makes 6
Prep time 15 mins
Cooking time 20 mins
Macaroon Ingredients
2 sheets of Rice paper
2 medium egg whites
¼ teaspoon cream of tartar
¼ teaspoon corn flour
140g caster sugar
225g desiccated coconut
1 teaspoon almond extract
¼ teaspoon fine sea salt
6 glacé cherries
Topping Ingredients
50g flaked almonds, slivered and toasted
50g dark chocolate (70%), melted
Method
• Preheat the oven to 170°C/Fan 150°C. Line a baking tray with greaseproof paper or silicone pads, and place the rice paper on top.
• Whisk the egg whites, cream of tartar and corn flour until you have soft peaks.
• Now add a tablespoonful of sugar at a time, continuing to whisk, until the mixture becomes glossy – you should now have stiff peaks.
• Now add the coconut, almond extract and salt, and fold in using a large metal spoon.
• Place 6 large dollops of the mixture on the rice paper, spacing them 1 inch apart.
• Press a glace cherry into the centre of each macaroon.
• Bake for 20 minutes, until the macaroons are golden brown and dry to the touch.
• Leave them to cool on the baking sheet for 15 minutes.
• Carefully cut around each macaroon to remove the excess rice paper.
• Now drizzle the macaroons with melted dark chocolate, and sprinkle over the toasted almonds.