Food Fair Throwback – Simon Rimmer Recipes
By Amber Parris
While Eden is unable to host its annual Foodie Fair this year and The Big Buck Bake Off is an online affair (apply here), we've still got a bunch of tasty treats to look back on.
So, in this issue, we're digging into the archives and delivering some of the most amazing recipes donated to us from some of the best celebrity chefs ever to grace the stage at Eden's Food Fair.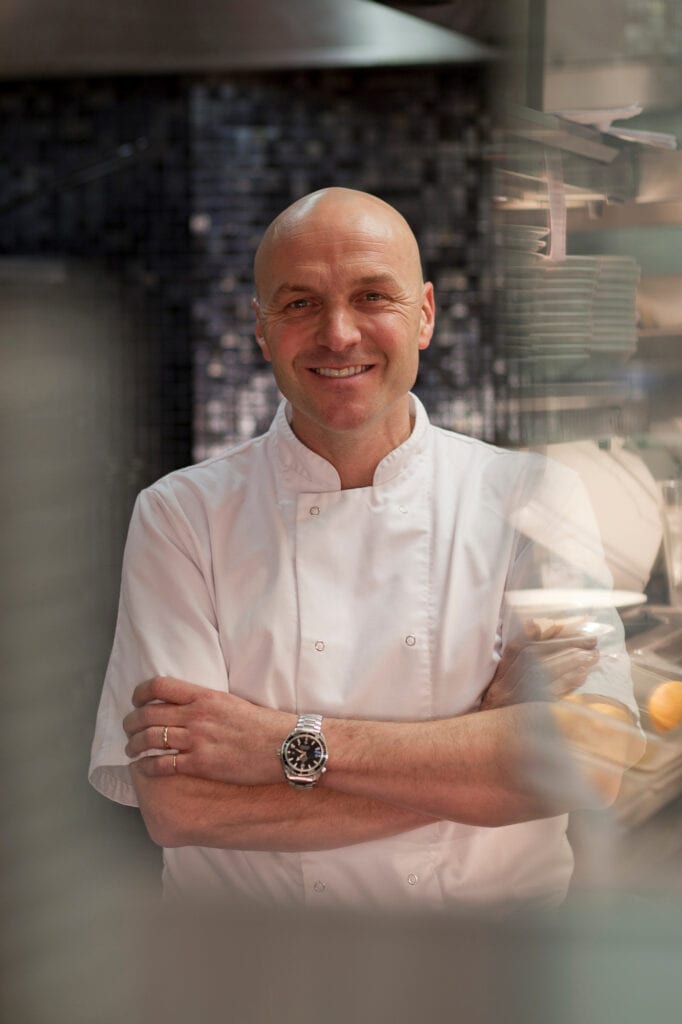 Simon graced our stage back in 2013 with a handful of mouthwatering dishes including both sweet and savoury.
Simon Rimmer's Individual Banana Tarte Tatin
Serves 4
Ingredients
200g Ready Rolled Puff Pastry
12 to 15 Bananas
50ml Water
30ml Rum
100g Caster Sugar
25g Butter
Egg Wash
Cream to serve
Method
1. Put the water and rum in a heavy bottom pan, sprinkle over sugar. Heat until the sugar melts, don't stir. Simmer till it turns golden brown. Careful not to burn it. Stir in the butter, then pour into 4 blini pans, or individual 12 cm tarte pans.
2. Pack full of 50mm pieces of banana, really pack the case.
3. Press the pastry all around and trim. Brush with egg wash then cook at 190c until the pastry is golden, for about 18 mins.
4. Turn out the tarts and serve with cream.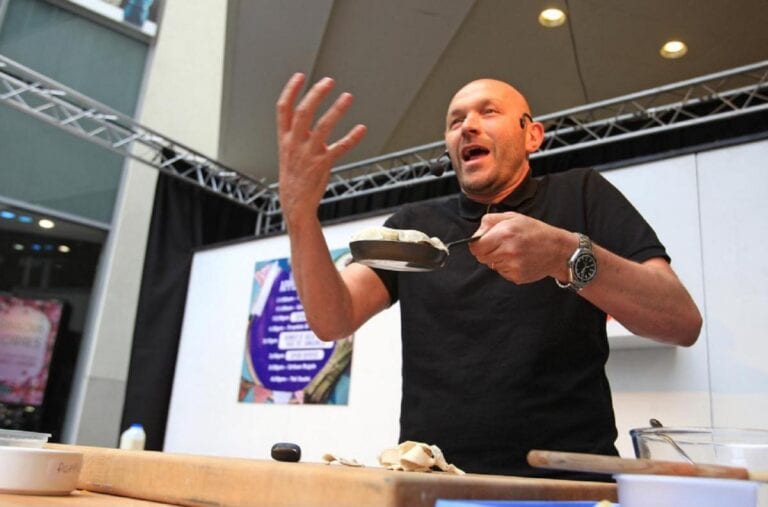 Simon Rimmer's Halibut Wrapped in Bread on Cauliflower Puree
Serves 4
Ingredients
4 x 150g Halibut fillets (no bone)
12 Slices White Bread, crusts off
200g Clarified Butter
1 tbs Olive Oil
Puree Ingredients
Half Chopped Onion
250g Cauliflower Florets
75ml White Wine
200ml Cream
2tsp Curry Powder
1 tbls Capers
Method
1. Roll out the bread until really thin, wrap around the fish and brush with butter. Chill this for 30 mins to stiffen up.
2. Brush with more butter and fry for 3 mins each side, drain and serve on the puree
3. Puree – fry the onion until soft, add the cauliflower and cook for 7-8mins until soft. Add the curry powder.
4. Add the wine, and reduce the mixture by half.
5. Add the cream, cook 5 mins, then puree.
6. Season well, fold in capers and serve.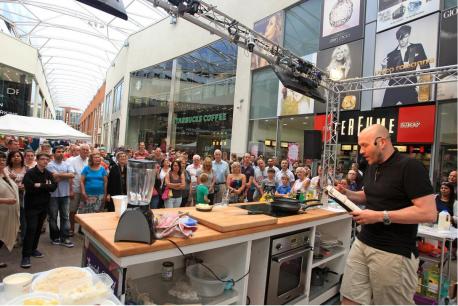 Simon Rimmer's Beef Tetaki
Ingredients
500g Beef fillet
marinade – 30ml Veg Oil
75ml Soy Sauce
50ml Rice Vinegar
1 Finely Sliced Banana Shallot
2 tbls Soft Dark Brown Sugar
Zest of 1 lime
50mm Piece Ginger, Grated
2 Cloves Sliced Garlic
Salad Dressing  Ingredients
50ml Soy Sauce
50ml Rice Vinegar
1 tbls Soft Dark Brown Sugar
Juice & Zest 1 Lemon
1 Finely Chopped Chilli
Beansprouts
Watercress
Sliced Cucumber
Sliced Shallot
Pickled Ginger
Method
1. Oil the meat, season, then seal on all sides.
2. Meanwhile mix all the marinade ingredients together in a bowl. Add the meat to this, rub in the marinade, transfer all of it to a sealable plastic bag and chill for at least 2 hours.
3. Dressing – whisk all the ingredients together.
4. Arrange salad ingredients on plates, spoon over dressing.
5. When meat is cold, slice very thinly and arrange on the salad (lovely displayed
on a board or as a help yourself salad).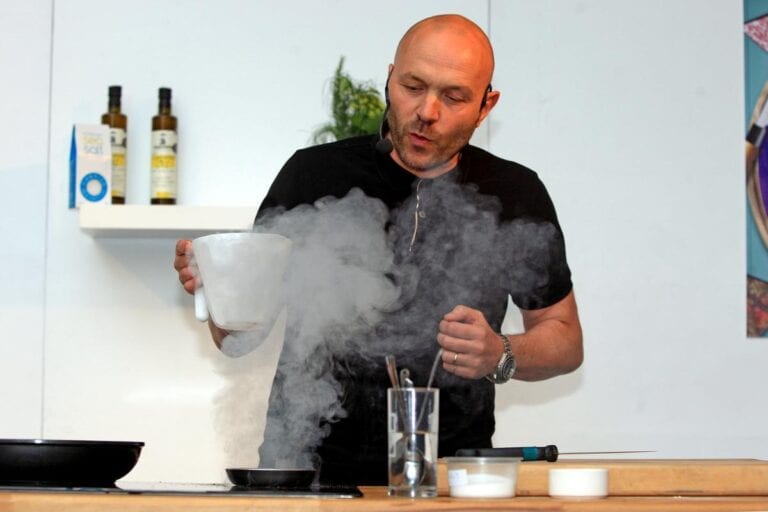 Simon Rimmer's Chocolate Meringue Roulade
Ingredients
5 Egg Whites, Beaten
150g sugar
2 tsp Sieved Cornflour
1 tbs Cocoa Powder
400ml Cream Whipped w/ 1 tbs Icing Sugar & Vanilla
Icing Sugar & Cocoa Powder to dust
Raspberries to garnish
Method
1. Gradually add icing sugar to the eggs until creamy & gooey, whisk in cornflour & cocoa.
2. Spoon onto a 330mm x 280mm swiss roll tin, lined with silicone paper.
3. Put into a 150c oven, bake for 1 hour. Allow to cool.
-4.Sieve icing sugar onto more greaseproof, turn out the meringue.
-5.Spoon on cream, roll up, pop on plate, dust with both icing sugar and cocoa.
6. Serve thick slices with raspberries.